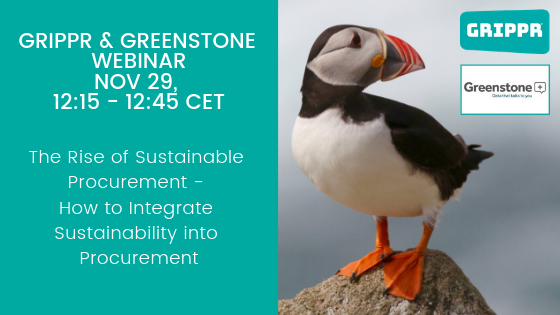 The rise of sustainable procurement – how to integrate sustainability into procurement
8 November 2018 / In Nieuws / By Merel Plante

Webinar on Thursday 29 November – 12.15 CET / 11.15 GMT
Register here: Webinar The Rise of Sustainable Procurement
Procurement is changing, which means the way organisations engage with their suppliers, manage their supplier relationships, and make their purchasing decisions is changing. The focus on managing supply chains more responsibly, or sustainably, is something that is relevant to all current and future procurement and supplier management activities. Sustainability is key part of the evolution of procurement, and therefore needs to be fully understood and integrated into procurement processes.
Greenstone has partnered with procurement consultancy, Grippr, to bring you a free 30-minute on the rise of sustainable procurement and practical tips on how to introduce sustainability into procurement processes.
Join this 30-minute webinar, which will cover:
The changing procurement landscape
Key trends in the evolution of procurement (e.g. technology, digitisation, sustainability)
Opportunities for improving efficiency in procurement
Integrating sustainability into your procurement model
Practical steps to engaging the organisation on sustainability
How software can enable sustainable procurement
Speakers:
Gyles Scott-Hayward, Head of SupplierPortal, Greenstone
Merel Plante, Managing Partner, Grippr Procurement

Greenstone is an award-winning software provider in the UK, and Grippr is proud to partner with them.

Register for our webinar on the 29th of November, using the following link:
The Rise of Sustainable Procurement

Meer lezen over duurzaamheid en/of leveranciersmanagement of ons partnerschap met Greenstone?
Goed leveranciersmanagement kan altijd beter. Zeven stappen naar succes.
Grippr wordt exclusief partner van Greenstone SupplierPortal